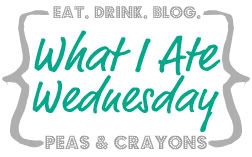 guys guys guys
I've taken so many photos of my food lately but then have run out of time to blog about it. I feel like a blogging fool right now, but I don't want to spend too much time wallowing in my self-centered sorrow so I'll just get on with my eats from WEDNESDAY (woo Hump Day!).
Breakfast eaten leisurely at 6:15am -- keeps me full for an amazing four hours. Yep, this one is a nannying keeper. Vanilla protein and peanut butter mixed into Mesa Sunrise and buried in strawberries and a sliced banana. Doused in milk and eaten with a mini spoon (to slow down my plowing-like eating process)
Snack at 11:30 was half of a Banana Bread Larabar that I wasn't all too crazy about. I really wasn't that hungry for it either, I just wanted something to chew on as the girls ate their lunches. Ate the other half as a sweet end to my lunch, later.
Ate lunch after a quick 30 minute elliptical work out at 1:15. I was feeling eggs today for some reason and decided to fry one up. I topped they egg with a heap of sauteed onion, orange bell pepper, corn, mushrooms and spinach, sprinkled some feta and mixed in some salsa. Really hit the spot!
Didn't snack at all during the day -- surprising! Dinner, made by the dad, was vegetarian chile and a cornbread muffin. I topped my small bowl of chile with avocado and a dollop of greek yogurt. I wanted to keep dinner small because I knew I would snackaroo at my book club meeting later that night!
Guess what I did yesterday -- I BAKED! I baked vegan muffins. Yep, and they turned out pretty darn snazzy. Recipe will be soon-coming, as will more posts in general, I promise.